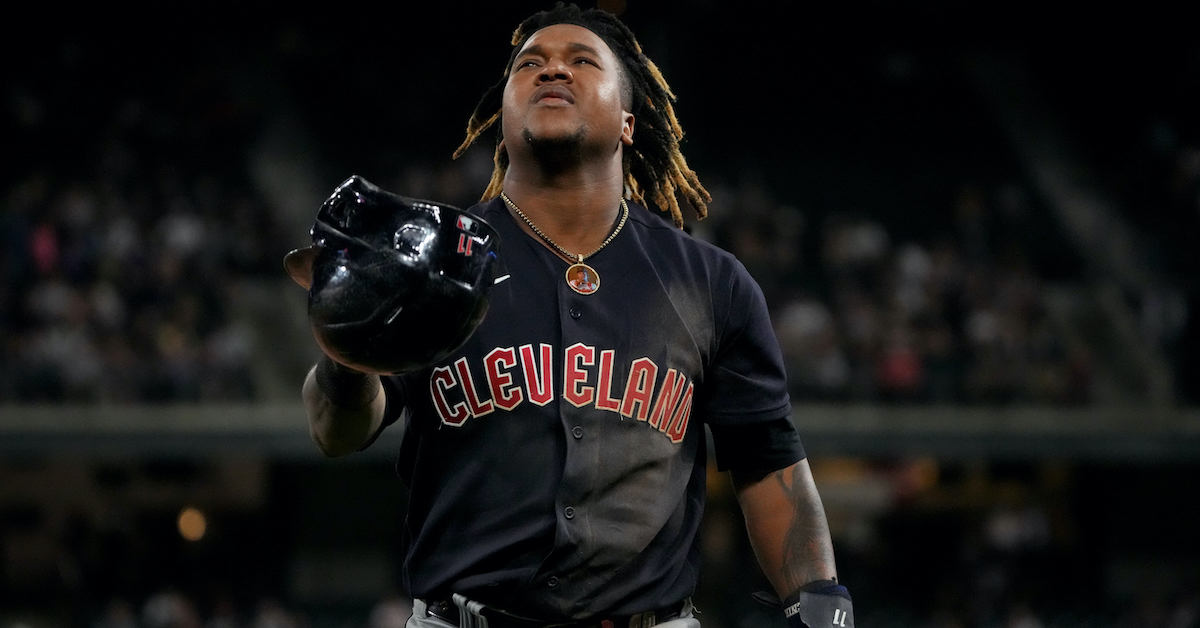 Who is baseball's most irreplaceable player in 2022? This doesn't mean the most valuable player, and in terms of the playoff hunt, the hardest player to replace isn't necessarily the best one. Some teams are either cruising to the playoffs or effectively eliminated in practice, if not in purely mathematical terms (hello, Tigers and Royals). To answer this question, I ran the updated ZiPS projected standings after Tuesday's games and then re-ran the entire simulation with the assumption that each relevant player missed the rest of the season due to injury.
For the AL, ZiPS estimates that 10 teams remain plausible playoff contenders, which I define as having a 5% chance of making MLB's new 12-team playoff format. The exceptions are the Tigers, Royals, A's, and Orioles. After this quartet, there's a significant jump to the Rangers at 9% and the Angels at 10%. Sorry, there are no Yankees and Astros on this list with their respective big leads in their divisions. Let's jump right into the AL's top 10 list.
1. Jose Ramirez, Cleveland Guardians, -15.8%
ZiPS projects the Guardians as only the third-best team in the weak AL Central despite currently being part of a first-place tie, which gives them about a coin flip's chance to make the expanded playoffs. While both Andrés Giménez and Shane Bieber project to finish the season in All-Star territory at over four WAR, Ramírez remains the player who most drives Cleveland and the only one who could figure in the MVP race. Ernie Clement is the most likely player to step in if Ramírez was lost for the year — he's already filling in for him — and that's a massive downgrade for a team that generally needs things to go right in order to make the playoffs.
2. Rafael Devers, Boston Red Sox, -11.8%
The fact that Devers ranks so highly should get the Red Sox thinking when the subject of a possible extension for their star third baseman comes up. Boston has surged back into the playoff picture in recent weeks, but its playoff hopes still rest on the edge of a knife, and the in-house replacements for Devers are a weak group. Bobby Dalbec and the returning Christian Arroyo would likely take over at third unless the team decided to move Enrique Hernández to the position. Suffice it to say that Boston's not giving Devers a lot of time off to play some designated hitter.
3. Xander Bogaerts, Boston Red Sox, -11.1%
Bogaerts ranks a bit behind Devers in that the likely replacements are better offensive fits at shortstop than at third base. The probable scenario here would be Trevor Story moving back to shortstop for the rest of the season, with Hernández shifting to second base. While that in itself doesn't sound too alarming, it causes the dominoes to fall a bit in an outfield with depth thinner than the skin on your eyelids. Throw Downs isn't really an alternate choice, or at least a good one, and has been overmatched by Triple-A pitching. Nick Yorke is unlikely to develop fast enough to be 2022 material.
4. Luis Robert, Chicago White Sox, -10.9%
Robert isn't playing at quite the eight-win piece of his 2021 season, but that doesn't mean that the White Sox can afford to lose him. Outside of bringing in the oft-injured AJ Pollock, the White Sox let their outfield depth fester last winter, something which had consequences when it resulted in a whole lot more Leury García and Gavin Sheets than Southsiders should have been happy with while Andrew Vaughn was out. In that case, Chicago was only replacing a rather poor defensive corner outfielder/DH type, not an above-average center fielder.
5. Vladimir Guerrero Jr., Toronto Blue Jays, -10.3%
There are a lot of good Blue Jays, but Vladito is the one who could go on the most dangerous tear and carry the lineup for a month. Alejandro Kirk doesn't have any professional experience at first place, diminishing him as an option if Danny Jansen continues to hit after returning from a broken finger. In fact, few of the Jays' various corner outfield types have any experience at first; Teoscar Hernández has none, and Zack Collins is unlikely to hit enough to be a reasonable candidate at first. Using Lourdes Gurriel Jr. isn't the ideal scenario considering how much playing time Raimel Tapia already gets for no particular reason. I expect a Guerrero injury results in a trade — the Blue Jays probably aren't going to be conservative after missing the playoffs last year by a hair — but that's a little out of ZiPS's purview, so it'll be Cavan Biggio time.
6. Wander Franco, Tampa Bay Rays, -9.5%
The Rays rarely have a player make this list. Tampa Bay teams are usually light on the all-world talents, but they seem to produce two-to-three WAR players with such brutal precision that one wonders if they're using a time machine to scout players. Goal Franco is an all-world talent, the kind of player who can define this team more than anyone else. He's currently in rehab in the minors but should thankfully be back soon.
7. Trevor Story, Boston Red Sox, -9.0%
Most of what goes for Bogaerts can be said here, just not as impactful with Story not quite in Bogaerts' league. He has cooled off somewhat after May, but he's still a player Boston can't easily replace.
8. Byron Buxton, Minnesota Twins, -8.7%
Buxton would rank higher here, but ZiPS already assumes that without a serious, season-ending injury, he would miss significant time from whatever other random injuries he rolled with 2d20. Assuming that Buxton would have perfect health, he would jump into the top five. Carlos Correa ranks a bit lower than Buxton, even with as good a projection, mainly because Minnesota has reasonable depth in the infield.
9. Kevin Gausman, Toronto Blue Jays, -8.5%
Hyun Jin Ryu's season-ending injury pushed Gausman into the top 10; otherwise, he would rank 16th. But without Ryu, Ross Stripling's presence becomes assumed rather than the fallback option, and another injury quickly could cause the Jays to run out of rotation depth. Nate Pearson had a setback over the weekend, suffering shoulder pain as he returns from the mono that has kept him out for 2022 so far, so him storming in as a reinforcement like Alek Manoah did last year isn't very likely. As with a theoretical Guerrero injury, I think a serious Gausman ailment would result in Toronto going outside the organization for a solution.
10. Dylan Cease, Chicago White Sox, -8.3%
Chicago's predicted preseason edge has disappeared, making the team's biggest stars much more crucial. ZiPS sees Cease and Lucas Giolito as similar in quality, with Cease pulling out a slight edge over the 11th-ranked Giolito. It certainly hasn't helped the team's roster construction that Dallas Keuchel, believed to be a relatively harmless inning-eater before the season, absolutely bombed and was released at the end of May. It's probably too late for the Sox to lap the division; they have a real fight on their hands.