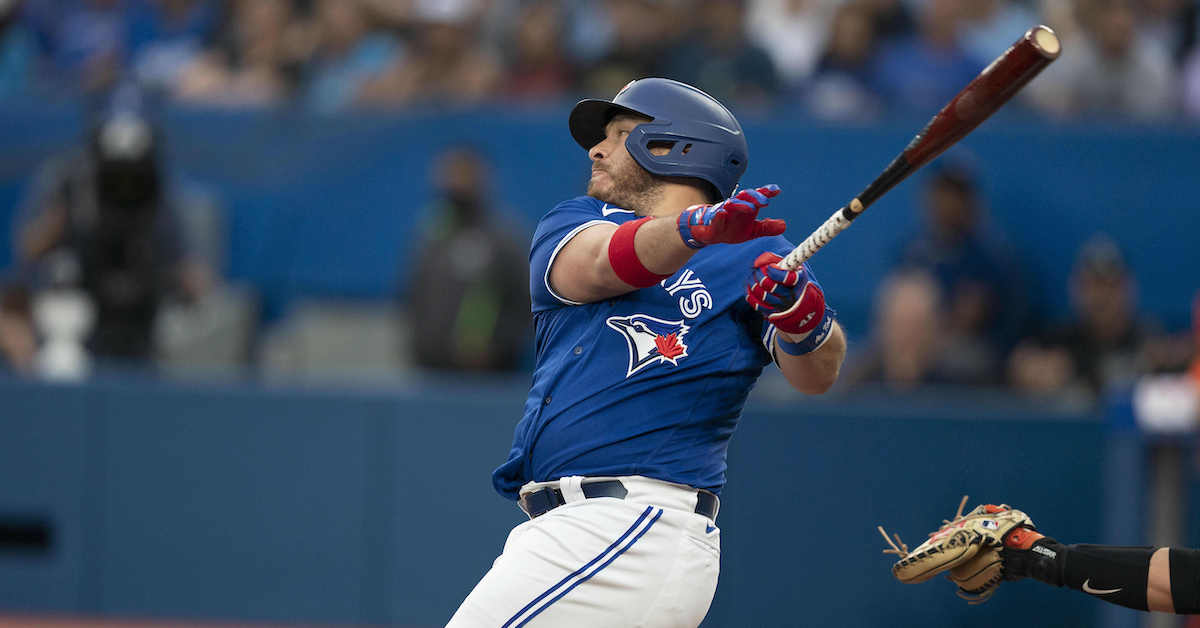 Among catchers this season, Willson Contreras has been the talk of the baseball town. It's easy to understand why: Here's a fan favorite suddenly having a career-best season in a walk year. That grabs everyone's attention. Suddenly, fans of others teams find themselves hoping that their favorite club will land him at the deadline or possibly this offseason. On the sabermetric side, there's mounting evidence that Contreras has indeed taken a step forward. A catcher with this much offensive upside is a rarity, and with a robust 161 wRC+, the veteran has turned himself into prized jewel.
But enough about the Cubs or Contreras. Do you know who's second in catcher wRC+ this season? That's right, it's Alejandro Kirk, who's been the Blue Jays' primary backstop ever since Danny Jansen headed to the IL with a fractured finger. His 146 wRC+ isn't too far behind Contreras', and the corresponding triple slash is a beauty: a .311/.392/.469 line is somewhat of a rarity in today's game.
Kirk's output might not be so surprising if you paid attention to his minor league numbers. Starting with Rookie ball in 2017, he raked at every level to which he was assigned, notching more walks than strikeouts, which led to a well-deserved big-league promotion in 2020. The Blue Jays gave him a proper chance the following year, and while he was serviceable, a 106 wRC+ in 189 plate appearances didn't exactly leave a strong impression. This year, however, Kirk looks like the unstoppable force his minor league track record suggested he could be.
If asked to identify one defining Alejandro Kirk trait, I'd gesture towards his all-fields, gap-to-gap doubles power. And there's no better way to illustrate that than through some good ol' GIFs. First, here's Kirk staying on plane with a high fastball and knocking it into center for a single:
For something more challenging, here he is fighting off a well-located cutter and sending it to the opposite field:
Want an example of raw power? When Kirk sees a pitch he likes, he's shown that he's capable of yanking it out in an instant, as seen here with this 110 mph dinger:
What stands out in particular is Kirk's swing – it's efficient and fast with very few moving parts, enabling him to cover all four quadrants of the zone. Based on these three clips, and without any additional context, you'd be inclined to think Kirk is one of the better, if not one of the more balanced hitters, around. The numbers bear out his all-fields approach: he brings roughly a third of his batted balls to left, center, and right, respectively. And as a bonus, this means teams basically never shift against him. Well, they've tried five times this season, but that's probably the result of a why-the-heck-not mindset. I don't blame them; Kirk has been on a roll as of late.
Besides his batted ball tendencies, Kirk is also defined by the utter lack of swing-and-miss in his game. His 87.8% contact rate ranks seventh among hitters with a minimum of 200 plate appearances as of this writing; his 4.8% swinging strike rate, meanwhile, ranks sixth. Amazingly, none of this has come at the expense of his contact quality. In addition, his rate of swings against pitches outside the zone ranks in the 75th percentile. Kirk isn't a savant in this regard – with a focus on contact, he can sometimes be led astray – but his discipline is good enough to grant him his fair share of walks and minimize the number of poorly hit balls he puts in play.
We've established what type of player Kirk is, but without a point of comparison, all of these numbers can be pretty opaque. He's a double hitter who rarely whiffs with solid swing decisions, but what does that amalgamation of skills look like in the long run? To find out, I had a little fun with player comps. Kirk conveniently reached the 200 plate appearance threshold on Saturday, so that's what I used as the cutoff. From there, I looked at hitters' barrel rates (per plate appearance), whiff rates, and chase rates (both per swing), and determined how similar they were to Kirk's. This allowed me to generate an overall score, with a lower score representing a higher degree of similarity.
That's all a bit complicated, but we're here for the results, anyways. Below are the five hitters who most resemble Kirk this season, with their 2022 numbers included:
Five Comps For Alejandro Kirk
Through games of June 18.
That's quite the list of names, and there's a reason why it's such a star-studded table! The combination of discipline and contact, in tandem with even modest barrel rates, is a proven formula for success. That doesn't mean Kirk is as good as some of these other players, of course, but the resemblance is striking. Beyond the metrics listed, achieving consistent loft is a big factor, too, which is how a hitter like Betts or Ramírez is able to crank 30 home runs a season without gargantuan exit velocities. Kirk might need to start pulling more of his fly balls if he desires a similar power surge, but for now, there's no sense of urgency. He's doing extremely well on his own terms.
(As an aside, it's weird to see Verdugo's name pop up, though maybe we should give him more credit – despite a career-low strikeout rate and no visible decline in his batted ball metrics, he's posted a lowly .254 BABIP. I' d bet on him to get it going in the next month or so.)
It strikes me as fascinating how Kirk's offensive style and on-field results don't resemble that of the average catcher. To wit, the closest catcher to him by similarity score is the Dodgers' Will Smith, who ranks… 31st. Catchers historically haven't been known for their scorching bats, but I think it's important to put into perspective just how much Kirk stands above his peers. Here's another table, this time with three new columns: The average number for a catcher this season by metric, the league as a whole, and how catchers rank among the nine positions (including DH but not pitchers). Your typical backstop doesn't strike fear in opposing pitchers' hearts, but why?
Catchers Aren't the Greatest Hitters
| Metric | Catcher Avg. | League Avg. | Positional Rank |
| --- | --- | --- | --- |
| K% | 24.0% | 22.1% | 9th |
| O-Swing% | 29.5% | 28.8% | 8th |
| ISO | .139 | .150 | 7th |
Through games of June 18.
The answer is fairly straightforward. Catchers don't show much pop, nor do they put many balls in play, and they don't chase fewer pitches outside the zone to compensate. That first point partially applies to Kirk as well, but in terms of strikeout or contact rate, he's at the absolute left of the distribution, on an island of his own. When you consider that catchers' various responsibilities take away from time spent on practicing hitting, Kirk's rise to prominence is all the most amazing. A catcher isn't supposed to have his kind of profile, but then again, Kirk has spent most of his career defying what's been expected of him.
Oh, and I haven't even talked about his pitch framing skills. On the road to the show, Kirk learned how to catch with a one-knee stance, which has been shown to help catchers fetch borderline strike calls. But as he accumulated catching experience last season, Baseball Savant credited him with a 47.2% strike rate on borderline pitches, placing Kirk in the bottom third of qualified pitchers. This season represents yet another step forward: He's nabbing strikes at 50% clip, vaulting him into the top 10.
There's a great article by Nick Ashbourne of Sportsnet that suggests Kirk has cleaned up how he receives pitches, flashing subtle strokes towards the strike zone rather than violently stabbing the ball. It's certainly a plausible explanation, and when a player shows up with better rates, we're less skeptical if it's tied to a visible change. But there are also aspects out of Kirk's control. Framing numbers fluctuate depending on the pitching staff a catcher works with, as well as the tendencies of the home plate umpire in a given game. I'm thinking Kirk's 2021 wasn't big enough of a sample. If so, it's probably best to split the difference and peg him as about an average pitch framer moving forward – unless he keeps deceiving umpires, that is.
Will Kirk keep up this admirable offensive pace? There are couple of areas where the dreaded regression to the mean is inevitable – he's been the beneficiary of an elevated line drive rate, and it's good to remember that just because bloop singles are assigned a high xBA doesn't mean they're repeatable. Plus, his sluggish speed will always put a hard cap on the BABIP he can achieve. Otherwise, though, it's safe to be optimistic about Kirk moving forward. It's clear he has a knack for driving the ball, and his immaculate contact rate is about the safest floor a hitter can rely on. The projections are rosy, too, seeing him as the owner of a 125-ish wRC+ who'll tack on an additional two wins above replacement by season's end.
The thing about regression to the mean, though, is it assumes we know what a player's true talent level is. In Kirk's case, I'm not sure that's been defined. He's not the best catcher in baseball just yet – that throne currently belongs to Wilson Contreras, who has an edge in terms of both offensive production and playing time. Over the past few years, it belongs to the steady Will Smith. But Kirk is the likeliest heir around. It's hard to believe, but he's still only 23 years old, with plenty of time to refine his already potent bat and demonstrate that his newfound pitch-framing capabilities are real. True, there isn't a ton of previous for Kirk's teapot frame in professional sports, which does raise questions about how he'll age. But does that mean I'm going to ignore how much he's been raking this season? Nope! So for now, let's admire just how much Kirk stands out in the catcher landscape, and appreciate how he's realizing his All-Star ceiling, one double down the line at a time.
Statistics in this article are through the games of June 18 unless specified.