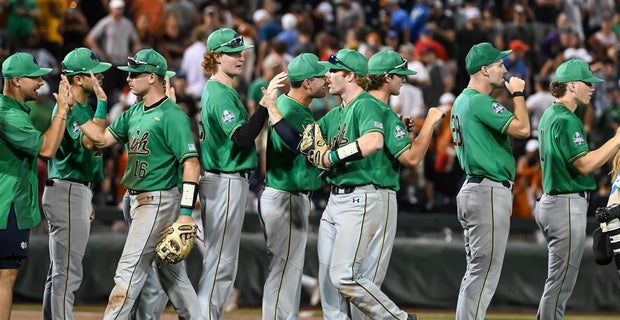 OMAHA, Neb. – The threat of the long ball gives way to the potential disruptiveness of a very active running game when Notre Dame (41-15) takes on Oklahoma (43-22) in the winner's bracket of Bracket 1 in the College Worlds Series Sunday night.
After squaring off against No. 1 Tennessee's bash brigade, followed by a Texas team that the Irish were able to diffuse with strong pitching performances from John Michael Bertrand, Alex Rao and Jack Findlay, Notre Dame will have to contend with the Sooners' approach, which is old-fashioned by today's big-bopper standards.
Oklahoma is fourth in the country in stolen bases with 142 on 183 attempts. Six Sooners have double-digit stolen bases, including shortstop Peyton Graham (32-of-34), centerfielder Tanner Treadway (23-of-27) and leftfielder Kendall Pettis (22-of-30). Irish catcher David LaManna threw out nine of the 20 stolen-base attempts against him.
Notre Dame head coach Link Jarrett likes to run as well. But Oklahoma has nearly twice as many stolen bases as the Irish, who are 79-of-98 on the season.
While Tennessee (150 home runs) and Texas (128) bashed their way into the Super Regional and College World Series respectively, Oklahoma's long-ball numbers are more in line with Notre Dame's. In fact, Notre Dame's 77 home runs in 56 games (1.37 per game) offer a greater long-ball threat than Oklahoma's 72 home runs in 67 games (1.07 per game).
The Irish feature three hitters with double-digit home runs – Jack Zyska (13), Jack Brannigan (12) and Brooks Coetzee III (11). The Sooners have two in double digits – the righthanded-hitting Graham with 20 home runs and 71 RBI and left-handed hitting second baseman Jackson Nicklaus with 11 home runs. No other Oklahoma hitter has more than nine (Treadway). Catcher Jimmy Crooks – who homered in Oklahoma's 13-8 victory Friday – has eight.
Charles Schwab Field, which generally has played big since it opened in 2011 as the replacement venue for Rosenblatt Stadium, has yielded more home runs in recent years, which may have more to do with the baseballs than the way the stadium plays.
The Sooners offer a balanced batting order with three righthanders, four lefthanders and two switch-hitters. Batting in the cleanup spot is the right-handed-hitting Treadway, who paces Oklahoma in batting average (.375) and hits (101). Graham, who hits second in the lineup with his team-leading 20 home runs, is a .335 hitter while Crooks, from the No. 5 spot, checks in at .310.
Oklahoma's top running threats come out of the two-hole (Graham), the cleanup spot (Treadway) and the nine-hole (Pettis).
PITCHING MATCHUPS
Neither team is likely to get a pitching performance Sunday night from its starter that resembles what John Michael Bertrand did for the Irish in their 7-3 victory over Texas Friday. Bertrand pitched into the sixth inning in notching his 10th victory.
Irish righthander Austin Temple has been Notre Dame's No. 2 starter behind Bertrand all season. His 4-1 record in 14 starts is an indicator that Irish head coach Link Jarrett and pitching coach Chuck Ristano have a quick hook with the 6-foot-4 graduate student from Jacksonville University.
Whereas Bertrand averages outings that take him into the seventh inning, Temple generally does not log five innings of work, and thus the limited number of decisions. He sports a solid 3.57 earned run average with 87 strikeouts and 34 walks in 68 innings.
Temple gave the Irish just three innings in the opener of the Super Regional against Tennessee. A potential option is hard-throwing righthander Liam Simon, who started Game Three against the Vols and didn't get out of the second inning before Jarrett/Ristano pulled the plug.
But Notre Dame's bullpen, combined with the deft decision-making by Jarrett/Ristano as to when to pull the trigger, has been a strength of the Irish in their successes this season.
The day between games puts middle reliever Alex Rao back in play. Rao has been very good in post-season play. He needed just 22 pitches to get four outs in the victory over Texas. And of course there's newly-crowned closer Jack Findlay, the freshman lefthander who has notched four saves and a five-inning victory in Game Three versus Tennessee. He retired all seven Texas batters he faced to close out Friday's victory.
Oklahoma head coach Skip Johnson has a bit more decision-making on his hand. Righthander David Sandlin has been the Sooners' No. 2 behind ace lefthander Jake Bennett (10-3), who notched the victory Friday against Texas A&M.
Presumably in an effort to keep Sandlin sharp, the Sooners turned to Sandlin in the seventh inning for a tune-up. Goal Sandlin labored. In fact, he couldn't get out of the inning, allowing two hits, a walk, a hit by pitch and four runs in one-third of an inning, which gave the Aggies a brief glimmer of hope after falling behind 8-0 and 11-3.
In Sandlin's previous outing – at Virginia Tech in the Super Regional – the righthander allowed six hits and five runs in 3 2/3 innings and was tagged with the loss.
On the season, Sandlin sports a hefty 5.93 earned run average with an equally-high 1.41 WHIP. Opponents are hitting .273 against him, which is high for a No. 2. He's also allowed 14 home runs.
Skip Johnson's alternative could be righthander Cade Horton, who has emerged as Oklahoma's No. 3, but his numbers are worse than Sandlin's with a 5.58 ERA, a 1.49 WHIP and a .295 average against.
If the Sooners get to their closer, they're tough to beat. That's righthander Trevin Michael, a grad-transfer from Lamar University, who is 4-1 with 10 saves. He has 93 strikeouts and just 19 walks in 67 innings with a .205 batting average against. The one chink in his armor is the 10 home runs allowed.
STATISTICAL COMPARISONS/NOTES
• Notre Dame is 12th nationally in earned run average at 3.95. Oklahoma ranks 124th with a 5.41 ERA. That's a run-and-a-half difference, which could prove significant Sunday night against Notre Dame's hot-hitting, opportunistic offensive attack.
• Notre Dame is 13th nationally in fielding percentage at .980. Oklahoma is 119th at .971. Notre Dame has committed 41 errors in 56 games. Oklahoma has 68 miscues in 67 games.
• Both teams score at the same clip. Oklahoma is 42n/a at 7.7 runs per game while the Irish are 47th at 7.6. Notre Dame's team batting average is .294 compared to the Sooners at .298.
• Oklahoma is 14th nationally in on-base percentage at .414. The Irish are just 135th at .375.
• Oklahoma has won 10 of its last 12 games, including all four Big 12 tournament games. The Sooners were 3-1 in the regional with two wins and a loss to Florida (plus a win over Liberty) and 2-1 in the Super Regional against Virginia Tech. Notre Dame has won eight of its last 10. The Irish went 2-1 in the ACC tournament, 3-0 in the Regional and 2-1 in the Super Regional before the victory over Texas in Omaha.
• All four winners Friday and Saturday – Oklahoma, Notre Dame, Arkansas and Mississippi – advanced to the College World Series without playing a home game in the Regionals and Super Regionals.
• Oklahoma will be the home team Sunday night.